June 23rd, 2022 - Dr. Robert Zarr
A Zoom Presentation 7:00 - 8:30
"Making the Case for Nature Prescriptions: What's New and What's Next"
Dr. Robert Zarr, Founder of Park Rx America is the leading proponent of prescribing Nature to patients as part of an overall approach to wellness and prevention. In this presentation Dr. Zarr will focus on making the case for nature prescriptions, the numerous health benefits derived from nature and how and why you should write your own prescriptions.
This presentation is a Zoom presentation with a start time of 7:00 PM.
Nature Speaks is free admission but registration is necessary.
The Library will send you a Zoom link as the even approaches.
There is a preponderance of evidence that incorporating more nature into our lives improves our physical and mental health and social well-being, and that nature prescriptions increase our patient's likelihood of spending more time in nature.
Improvements in one's physical health can be seen in a decrease in Diabetes, decrease in hypertension (high blood pressure), improvements in cardiovascular health, improved sleep, improved immunity, improved birth outcomes, decreased Myopia, (Nearsightedness), and decreases in Asthma. Increasing physical activity also shows an improvement in obesity rates.
Improvements in mental health are see in less depression, decreased stress and anxiety, improved ADHD symptoms, increased focus and restorative properties, increased sense of wellbeing, self-concept and resiliency, and less rumination.
Prospect Heights Slough in Winter
Humans have evolved over millions of years, mostly outdoors. It has only been the last few decades where we have seen a major transition, where we now spend most of our time inside. Even so, since we evolved outdoors, nature is not foreign to us, but rather part of our very being.
Writing a nature prescription isn't about the healthcare professional finding that magical and perfect place for our patients to spend their time. In contrast to writing a medication prescription, a nature prescription is for the most part "written" by your patient.
Park Rx America believes that nature-rich areas should be accessible to all and incorporated into our daily routines. Spending time in and around nature is the single most important first-step to improving both human and planetary health. PRA is committed to educating healthcare professionals and the public, and to providing the tools to meet each individual's unique needs.
Grey-headed coneflower at Pollinator Park
Clouds over the Nature Preserve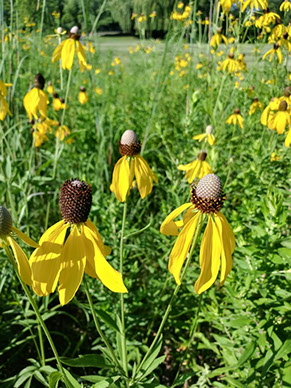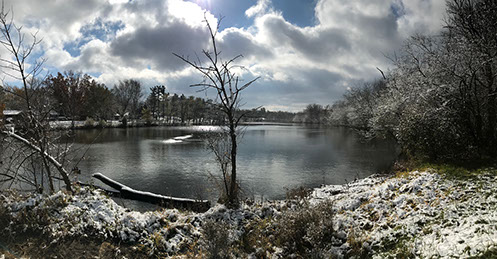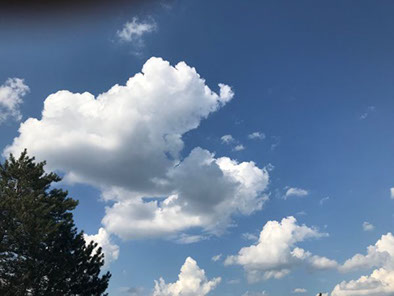 Robert Zarr, MD, MPH, is a physician researcher and public health pediatrician based at Unity Health Care, Inc. in Washington D.C. He has provided medical attention to BIPOC and immigrant populations for more than 20 years. Robert is the Founder of Park Rx America and a certified nature and forest therapy guide. You will often find him walking or hiking on nearby trails and spending time near his neighborhood trees.
Don't miss this important and highly informative presentation. Admission is free of charge but you must register. The library will send out the link on the day of. Visit the Park Rx America website here.